LOUISE RYAN
VOCAL SCHOOL
The highly respected Louise Ryan Vocal School is held every Thursday evening and Saturday morning, during the school term time, (13 weeks per term) in the music and drama departments in Cardiff High School.
Students participate in Vocal and Drama classes with dedicated tutors, who are all professionals in their fields.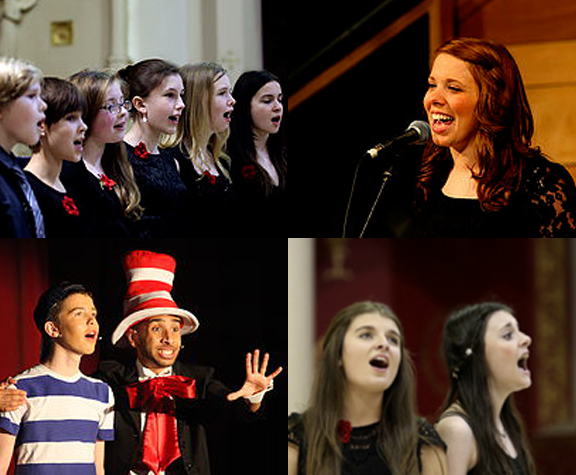 ---
PERFORMANCE
There are regular opportunities for performance. This includes an annual full scale musical production. In past years these have included Oliver!, Seussical, Footloose and Guys and Dolls. In addtion, LRVS performs regulary on the Glanfa stage at WMC, Eisteddfodau, Christmas Concerts, St David's Hall, Millenium Stadium VIP room, Corporate Functions, Pop Gigs, Jazz Gigs and other festivals.
The vocal styles that LRVS students enjoy studying include, Classical, Musical Theatre, Gospel, Folk, Pop, and Jazz.
Louise's wonderful student, Lynwen Haf Roberts, performing "Adref" (Home) on Noson Lawen.
Classes are designed to develop the following skills:
Artistic Development
Technical Vocal Development (in Ensemble and Solo work)
Audition and Casting Technique
Vocal Repertoire
Examination Preparation
Musicianship
Acting Through Song
Monologues
The Spoken Word
RP (Recieved Pronunciation)
Improvisation
You do not need to be having Private Tuition with Louise Ryan in order to attend the school as you will benefit from her expertise within the group sessions.
Louise's students are regularly sent for castings and auditions, thanks to the support of professional agents.
Her students also are coached in recording techniques, and many get the opportunity to spend time in a professional recording studio, which enables them to prepare Demos, gaining valuable experience.
---
CLASSES TAKE PLACE AT CARDIFF HIGH SCHOOL DURING TERM TIME
Thursday 5.30pm-8.00pm Ages 15 and over
Saturday 10.00am-12.30pm Ages 11-14
Saturday 10.00am-12.30pm Ages 8-11
We have small classes in order to benefit each student
Vocal School fees: £200 per 13 week term
Payment terms can be discussed with Louise, please ask for further information.
---
PRIVATE TUITION WITH LOUISE RYAN FOR ADULTS AND CHILDREN
Private singing lessons can be arranged with Louise and are held at her home
As well as young people, Louise teaches a number of adult singers
60 Minute Vocal Lesson - £50
45 Minute Vocal Lesson - £38
30 minute Vocal Lesson - £25
Lessons can be arranged on a weekly or fortnightly basis.
---
GCSE PERFORMING ARTS QUALIFICATION
---
Louise Ryan Vocal School offers the qualification of a GCSE in Performing Arts.
Louise Ryan Vocal School offers the qualification of a GCSE in Music.
---